October 30th, 2020 | 8:23 AM
As cases rise in our local area, the Fenton Family Dealerships are working hard to keep our stores and vehicles sanitized, our online Sales and Services processes running, and our customers and employees safe and healthy. 
Here's the steps we are taking to keep our dealerships clean:
Thorough cleanings of all dealership facilities daily

Sanitizing gel and foam stations available on-site

Providing our staff with specific instructions on hand washing and the importance of staying home if they are not feeling well

Adhering to the recommended six feet of social distance from other staff and customers
Are you practicing social distancing or trying to reduce your time spent in public/retail buildings? We have an online process for both Sales and Service Scheduling, so that you can take care of your automotive needs while reducing the amount of time you spend at the store!
Online Service Scheduling For:
May 29th, 2020 | 9:28 AM
Due to increased customer demand, we will be updating our temporary sales hours, effective June 1st, 2020 for all locations and are subject to change:
Monday - Friday: 8am to 7pm
Saturday: 8am to 5pm
Sunday: Closed
On Wednesday, May 6th, we began the daily COVID-19 symptom screenings of employees at all locations. We also began requiring the use of face coverings by everyone entering the building and working in shared space areas. We also ask all customers to wear a mask upon entering our buildings. Thank you to all of our employees, customers, and community partners for your support! 
May 7th, 2020 | 3:33 PM
As the State and CDC Guidelines evolve, so does our response to the COVID-19 Crisis. We have now implemented a policy for all employees for mandatory mask usage and for a mandatory temperature check, so we can track any Coronavirus-related symptoms anyone on our staff may be exhibiting. 
Based on newly released guidelines from the State of NH, we also ask all customers to wear a mask upon entering our dealerships, so we can continue to keep our staff healthy and our locations open for business.
As we continue to monitor the situation at hand, we will continue to evolve so we know we're keeping our employees and therefore our customers safe and healthy, while still delivering on our high standards in both Sales and Service. We appreciate your patience and look forward to delivering a sanitary and stress-free automotive experience.
April 23, 2020 | 10:41 AM
Our Service Departments at Toyota/Volvo and Subaru of Keene are opening back up on Saturdays from 8 AM to 5 PM. Find your Service Department to schedule your service online 
here!
April 16, 2020 | 10:50 AM
Every vehicle we come in contact with has had every touch-point carefully sanitized by our expert staff, so you can be sure that your vehicle, or any vehicle on our lot, is safe and clean. We are also using steering wheel, seat, and shift knob covers to avoid touching key areas of your vehicle. If you want a deeper clean, we offer cleaning services from our Reconditioning department, so you can bring your vehicle in to be fully sanitized professionally!
For those avoiding going out altogether: we also have plenty of online sales tools available online, so you can start your sales process online and finish it too! You can calculate your monthly payment, estimate your trade's value, submit your credit application, and coordinate your paperwork and delivery right there online, so you can write your deal without leaving home.
Check out our inventory to get started now!
To honor our First Responders and Healthcare Professionals on the front lines of the COVID-19 Crisis, we are offering this discount: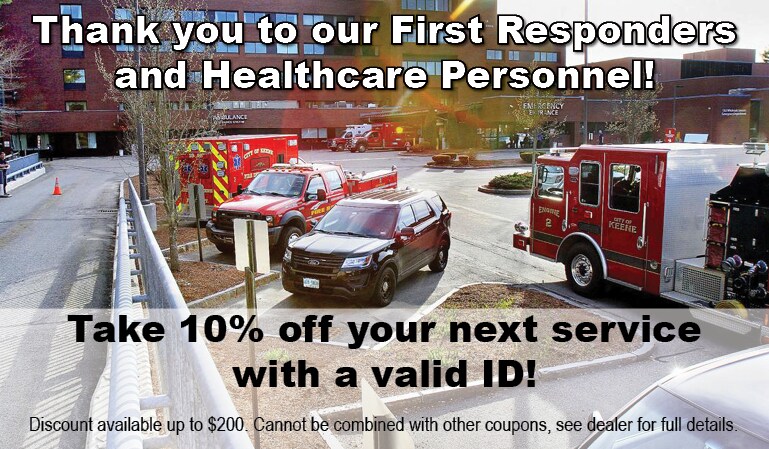 April 1, 2020 | 8:20 AM
Our Service Department will be temporarily closed on Saturdays, starting this Saturday, April 4th, 2020. We apologize for any inconvenience. We appreciate your continued support through these unprecedented times.
For extra safety in our Service Department - Take advantage of our key drop-off boxes, now available to use during business hours, and we can even arrange a pick up or drop off of your serviced and sanitized vehicle to practice safe social distancing.
March 27, 2020 | 2:18 PM
Currently, our dealerships are considered essential businesses and will continue to operate. The situation is constantly changing and we will keep monitoring all of the guidelines and safety precautions available to us. Although we are pleased that we are able to remain open, the safety of our employees and customers is our first priority.  In an effort to reduce touch points and maintain the 6 foot rule, we are removing all vehicles from our showrooms today. We are also being extremely cautious that employees are maintaining their safe distance from customers and co-workers at all times.
Saturday we will be open normal business hours, closed Sunday, March 29th, 2020.  Fortunately, we have been deemed an essential business, which means we can continue to sell and service automobiles. Although business is more challenging and different, with the teams we have in place we are very confident we can continue to provide the essential services our community needs during these unsettled times.
Stay safe and healthy, we are here for you when you need us.
March 24, 2020 | 10:40 AM
First and foremost, we want you to know that we value the health and safety of our customers and staff. As a business, Fenton Family Dealerships is taking the extra steps necessary to maintain a healthy and sanitary workplace while still meeting our customers' needs.
We continue to monitor information from state health authorities and the CDC for their guidance and recommendations on how we can help to prevent the spread of this virus.
Our steps include:
Thorough cleanings of all dealership facilities daily
Sanitizing gel and foam stations available on-site
Providing our staff with specific instructions on hand washing and the importance of staying home if they are not feeling well
Adhering to the recommended six feet of social distance from other staff and customers
We will be adjusting schedules and operations for some of our staff to ensure that we stay well and can continue serving our customers efficiently. These schedule adjustments should have minimal impact on our in-store operations.
Our website is a helpful resource for shopping and researching vehicles, finding service and parts information, and communicating directly with the dealership. We will also continue to offer vehicle pick-up and delivery services.
No matter the department you're looking to reach, we have staff available to answer your questions and assist with your needs. You can connect with a member of our team by phone, email or through our website.
Together, we can maintain a healthy environment and combat the spread of COVID-19.
On behalf of our dealership, thank you for being a loyal customer. Please don't hesitate to reach out as we remain dedicated to serving you for all of your automotive needs through this challenging time.
March 19, 2020 | 11:14 AM
As we continue to monitor updates related to COVID-19, we have made the following temporary schedule changes for all Fenton Family Dealerships, effective today and may be changed at any time.
Sales:
- 8am to 6pm Monday through Friday
- 8am to 5pm Saturday
- 12pm to 4pm Sunday
Service:
- 8am to 5pm Monday through Friday
- Saturday - No changes at this time, follow current store schedule
These temporary schedule changes are to allow for increased cleaning in the dealerships and to allow our employees more time at home. We apologize for any inconvenience, and we look forward to being your resource for your automotive needs in these uncertain times.
March 17, 2020 | 2:56 PM
We are ramping up safety precautions at all of our stores but are currently open. We highly encourage you to start your sales process online to avoid time at the dealership, please check out our online credit applications and more, as we increasingly move our sales operations online, to get started from the comfort of your home! Please let us know if we can help with any questions or concerns.
Make an Inquiry
Hours
Monday

8AM - 7PM

Tuesday

8AM - 7PM

Wednesday

8AM - 7PM

Thursday

8AM - 7PM

Friday

8AM - 7PM

Saturday

8AM - 5PM

Sunday

Closed